Our Facebook Stock Price Predictor algorithm continues to impress.  The June 22 buy signal at $24.60/share has shown an outstanding 61% gain on that one move alone, and the trading strategy is running a cumulative profit of 75% to date.   Last week Facebook had already rocketed to $38.00 and we published this blog post warning to keep hanging on as the algorithm indicated further gains:  [Facebook Stock looking to cheat the shorts – Aug. 22]
So where does the Facebook stock price go from here?
With nearly a 100% gain since November last year it's almost a matter of time before people start taking profits, however our proprietary indicator shows no significant weakness and is signalling further gains. 
We would be neither a buyer or a seller of the stock at this point.   If we owned Facebook today, we would continue to hold the stock.   If we were looking to take a position in Facebook, we would wait for the next signal from the Facebook Stock Price Predictor.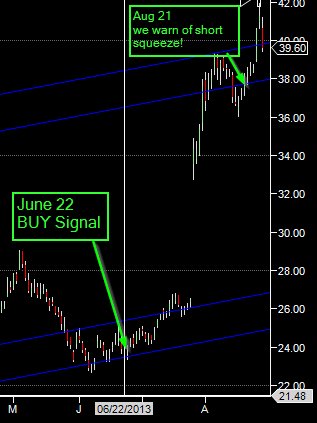 Performance of our algorithmic trades to date:
---
The content contained in this blog represents the opinions of the authors who may or may not hold long or short positions in securities of various companies discussed in the blog based upon the authors' views. The commentary in this blog in no way constitutes a solicitation of business or investment advice. In fact, it should not be relied solely upon in making investment decisions, ever. It is intended for the entertainment of the reader, and the authors. In particular this blog is not directed for investment purposes at US Persons.