Interactive Brokers – popular among the 'smart money' crowd – released the top 15 shorted stocks as of last Friday, and it's not pretty…  Nearly all are momentum stocks which have had incredible gains the past 12 months.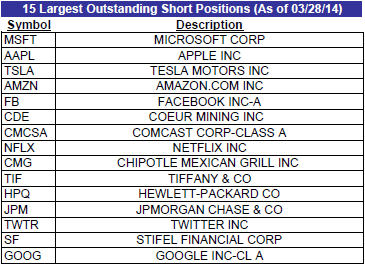 IB's original post can be found here.
---
The content contained in this blog represents the opinions of the authors who may or may not hold long or short positions in securities of various companies discussed in the blog based upon the authors' views. The commentary in this blog in no way constitutes a solicitation of business or investment advice. In fact, it should not be relied solely upon in making investment decisions, ever. It is intended for the entertainment of the reader, and the authors. In particular this blog is not directed for investment purposes at US Persons.