Update 10/25:  Exiting Trade:  While the position profit was as high as 6% that has pulled back to 3%.  NOK is hitting weekly highs and our market scan of the NASDAQ and other indices shows signs of weakness.  Therefore we are cashing in for a modest profit.
—
On October 3rd we posted that our algorithms exited all positions and rolled into cash, which turned out to be a good call as this happened just before the start of the market turmoil as a result of the news out of Washington.   While the subscriber portfolio capitalized on the volatility, we tweeted a warning the next day to all our followers:
Our computers just finished analyzing over 700 #stocks and nearly all are bearish..choose wisely $QQQ $SPY $IWM http://stks.co/elLO 
As we've said before, we don't particularly like going short, but shorts were the only opportunities that our algorithms were identifying.  It has taken nearly 7 trading days for markets to resolve themselves, and we are only now starting to see algorithmic opportunities to go long.
Nokia appears to be well into the middle of a short squeeze and the stock price has risen on little news.  After the stock corrected this week our algorithm went long at the open this morning where it subsequently broke through its $6.79 pivot.
Check our blog for a complete list of open and closed picks and our performance to date.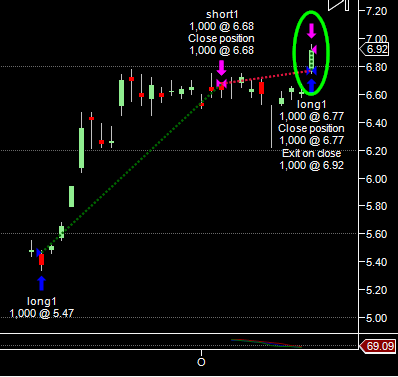 ---
The content contained in this blog represents the opinions of the authors who may or may not hold long or short positions in securities of various companies discussed in the blog based upon the authors' views. The commentary in this blog in no way constitutes a solicitation of business or investment advice. In fact, it should not be relied solely upon in making investment decisions, ever. It is intended for the entertainment of the reader, and the authors. In particular this blog is not directed for investment purposes at US Persons.