Our weekly scan of high-probability trading patterns has yielded two good signals on a pair of unrelated companies.  The patterns go  back to January 2013 and yielded a cumulative profit of 20% and 68% respectively.  We are adding these to our performance tracking sheet (as seen at after the charts) to demonstrate the effectiveness of the algorithm, which is the same one that has returned over 75% since May on Facebook alone as shown on our Facebook Stock Predictor page.
Avon Products Inc. (AVP) –  The sell-side analysts seem to think this is a $26 stock, which is plenty of upside from our algorithm's $20 entry price: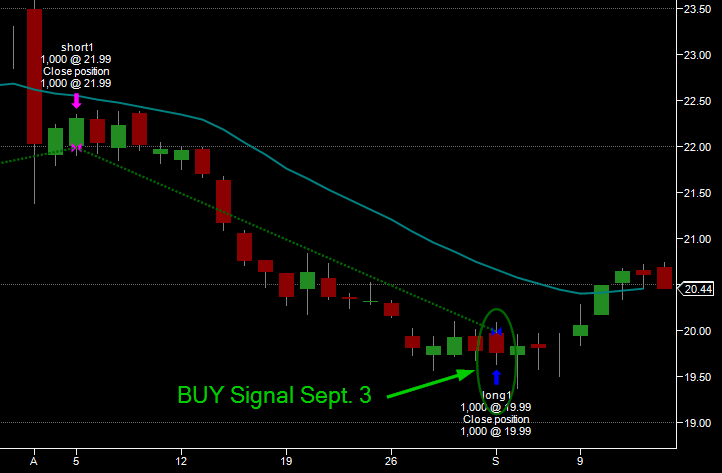 Even with the taper talk, the Select Sector Financials ETF looks poised to have a good run up after our algorithm generated a Buy signal at the bottom of a dip in a long up trend…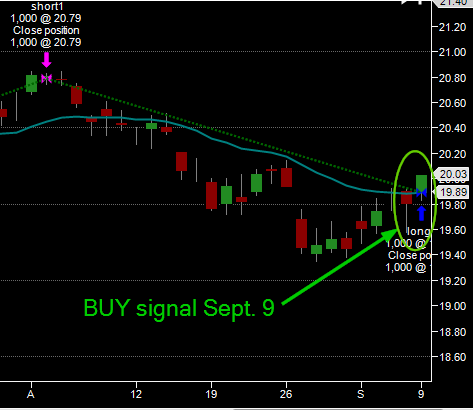 This is a real-time table of the current open and closed positions we post on this blog:
---
The content contained in this blog represents the opinions of the authors who may or may not hold long or short positions in securities of various companies discussed in the blog based upon the authors' views. The commentary in this blog in no way constitutes a solicitation of business or investment advice. In fact, it should not be relied solely upon in making investment decisions, ever. It is intended for the entertainment of the reader, and the authors. In particular this blog is not directed for investment purposes at US Persons.